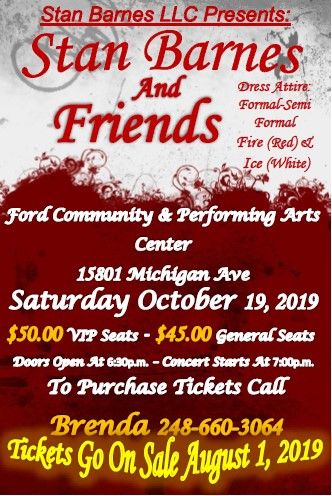 This year's Theme is...
"We Remember Motown"
"Stan Barnes & Friends Live in Concert" has been deemed by concert-goers and the media alike as "The concert that you don't want to miss."  Come out and enjoy great music in a pristine setting and witness why thousands of people can't be wrong.  More than just music, it's an effort to give our audience a break from the stresses of life.  This is an exhilarating performance that leaves you wanting more.  Don't miss your opportunity to experience musical excellence in a wholesome, stress-free setting where class and elegance meet in a wonderful array of talent.   Stan Barnes and Friends will satisfy your musical appreciation and deliver an Entertainment package that won't soon be forgotten!"
p.s.  Stan Barnes and Friends would like to offer our sincerest apology to any individuals  that were unable to attend the 2018 Concert due to there being no seats available or other reasons.  We have adjusted matters to assure that no guest is left behind, and that everyone has the opportunity to be present.  
Also, very important!
If you really want to attend but are realizing that due to some recent unforeseen situation or event in your life, or if it is financially challenging, please contact Brenda Barnes at 248-660-3064.  
This will be kept "CONFIDENTIAL".  
We want to assist.  
We are working toward our goal of being able to accommodate everyone if possible. 
Stan and Brenda