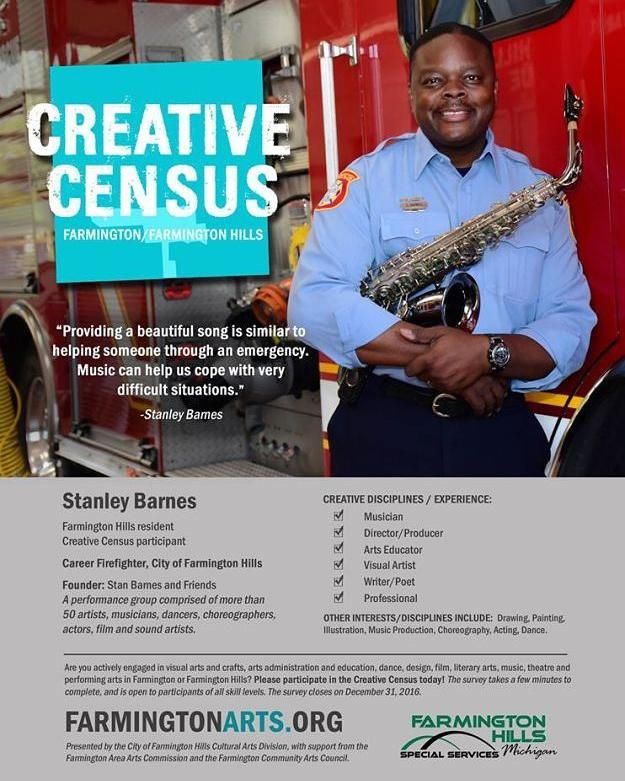 Stan Barnes is an accomplished musician with a pure and simple goal... to make good music. Within this goal is great freedom that is not tied down to a genre. However, this sometimes makes the music that he does create is difficult for some to classify. When asked how he would describe himself and his music, Stan said... "Well, I guess I like making fun music that is positive, upbeat, good quality and full of energy" He also stated, "I really believe that the live performance is the truest measure of the musician, it is really how you connect with the audience that gives them the opportunity to classify you, and this isn't done through one song but through each song and each stage performance." It is not uncommon for 2 listeners to enjoy the same song, but come back with 2 different opinions of not only the way it made them feel but also the genre that they would select to classify Stan's music.
 Stan has a number of CDs that are different in a variety of ways. For example Hold On, his last project, was wonderfully crafted, with a hidden message of hope that Stan loves putting inside of each project. And Just Ahead, his prior CD was accomplished to showcase Stan's diverse personality. "Better Days" is something that we all have enjoyed in life at one time or another. And it is something that we look forward to sharing in the future. Now musically, Stan is endeavoring to take us there note by note and song by song, on his CD, "Better Days"... If you take the time to listen, I'm sure you will find at least one or two songs that remind you of the Good Old Days, or at least of a time when life was Carefree and Easier. It is a wonderful array of compositions that takes you to a time when life was good. Each song is designed to touch a different aspect of time musically.
Better Days has the unique prospect of identifying times past, present, and future. And when you listen you will enjoy the bounteous flavorings of blended genres, from Pop, Jazz, Neo Soul, R&B, even Jazz Doo-Wop and a touch of Hip Hop… And Stan works with a fine blend of artists to help him achieve the Journey to Better Days… Please we invite you to open your mind and ears to a Fun Ride… Relax Better Days are Coming, and if you listen closely, you may agree that Musically, Better Days, if only for a moment, are here…
"I really enjoyed the song... "When We Get There". It makes me think and feel that Better Days are Coming and it won't be long, Joe Barnes does an excellent job vocally bringing out the emotions needed to drive home the pure hope and faith that comes from knowing Better Days are coming soon".
Stan's CD "The Next Level" is a refreshing blast of Fun Music that crosses genres with a foundation rooted in Jazz, but exploring the possibilities of Dance and Musical Movement. The CD..."The Way You Make Me Feel" is a recipe for good music done the right way. While being true to his unique style of expression and desire to make music his own way, full of fun and excitement, he still manages to satisfy audiences of all walks of life. Packed with a balance of explosion and relaxation this compilation is a sound choice as a selection to have in any repertoire. As an Artist, Stan holds his own, and this self-produced project is evidence of that. Please join us in celebration of his newest contribution to the wonderment of sound and audio excitement and get a true sampling of his next step in the Excellence in Entertainment. Audiences large and small have enjoyed the renderings of his interpretations with such groups as "Freestyle", "Jazz`ical", "GrooveX", and "A Cut Above", just to name a few. Stan also performs as the upfront power pack with the ongoing concert series, Stan Barnes and Friends Live in Concert every year to a "Sold Out" Venue with tickets available through "Ticketmaster".
Stan has worked with many professional Artists and has chosen some of the area's finest musicians to bring his goal of achieving Excellence in Entertainment to fruition. Accompanying as Musical Director and Bassist Extraordinaire is Mr. Terry (T-Bone) Washington. On Lead Guitar we have Mr. Karlton Smith… on Keys, we have Mr. Kevin Tubbs, Mr. T- Herd, Mr. Olice Cooper, and Ms. Candace Campbell, depending on our needs at the time. On Drums we have the incomparable Jeff Canady. We come fully equipped with 4 lead singers that double on some of the tightest background harmonies that you will ever hear. And of course on top of all this and sometimes mingled ever so gracefully throughout is Stan on Saxophone.
From his commanding stage presence to the way that he dances between phrases of melodic flares of excitement, his dedication to his craft is evident by the desire by which he performs. Every performance is viewed as an opportunity to give his all. Whether it's a Beautifully Blown Ballad that tells a story of love, happiness, desire or passion, or an Up-tempo, Heart pounding, Motivationally driven musical sequence of events that makes your toes tap, fingers snap, and hands clap… every performance by Stan Barnes has Attitude, Distinction, Desire, Satisfaction, Uniqueness and Persuasion, which all ADDS UP to an experience that you won't soon forget. From his style of dance to his quick-witted humor that makes his audience feel like they are a part of something special, Stan Barnes is in the truest sense of the musical experience of an Entertainer.
With every breath that Stan Barnes delivers into his horn, he breathes life into the very essence of his musical expressions. Born and raised in Detroit Michigan, Stan was surrounded by a Musical Culture that has shaped nations. Being interwoven in this culture, Stan was brought up listening to the full spectrum of great music encompassing multiple genres and expressive influences. It is with this influence that he approaches his Jazzy yet Eclectic impressions toward the Art of making music.
 This Concludes Stan's Concise Bio... But for additional information, please consider the following as you scroll down below...
I really want to thank you for taking the time to read this. Please allow me to tell you a little about myself. I'll try not to bore you too much.
I am now working as a Firefighter in a small suburb outside of Detroit, Michigan where I was born and raised. And like yourself and so many others, I believe I was molded by all of my life's experiences along the way. I have always loved music, I guess from the first time I saw my father pick up his guitar and sing, or the times watching others entertain or express themselves either lyrically or musically I guess, I, like others, picked up little pieces of them throughout my journey in life thus far.
I first picked up the sax while attending Henry Ford High in Detroit, where I was privileged to be trained by one of the Greatest Horn Players around, (Benjamin Pruitt Sr.) and his son Ben, Skip, Pruitt Jr. and I have been playing ever since. I have played with several groups throughout the years and have enjoyed and learned many lessons from each band and its members. I also met my beautiful wife Brenda at Henry Ford, I knew when I first met her, just like with music, that it was meant to be, and that from our first encounter, it would last forever.
We have been married 22 years now with 3 handsome boys Jordan, Brandan, and Kadan. It was then that I learned a different kind of love, one that I never knew until I had them. And you parents out there will know just what I am talking about.
Well anyway, I am a self-produced musician with the goal of making music that you and others will love. Now with the help of my beautiful wife and family, I have successfully finished 4 Projects. I loved working on each project, but this new CD has been a lot of fun for me because again I got a chance to work under the inspiration of my Beautiful wife Brenda. We have had a particularly trying year, but she has continued to be there by my side and it was her belief that has made music and the desire to make it more meaningful… hence… "The Way You Make Me Feel"…
And to some of you who know me, you know that I am employed and provide for my family as a Firefighter. And often in this profession, you have many opportunities to see quite a bit that inspires you. Sometimes good, sometimes bad. But I always try to find the good in everything. I say that to say this: I chose to donate a portion of the Proceeds that I may procure to The Great Lakes Burn Camp. Fire has touched many lives in so many ways. My immediate family had the misfortune of losing almost everything we had in our house fire in Detroit. It was devastating; it almost broke up our family. But that's a discussion for another time.
I guess that's why I wanted to take this opportunity to… as Mrs. Stacy Jenkins of the Observer Newspaper said: "To combine two passions of mine into one common goal".
As you will see with the Music on this CD, I chose this first time around to blend a mixture of styles and cultures all in the name of Love, Relaxation, Fun, and Enjoyment. My approach to music is first from the standpoint that Music is Universal… There is no right or wrong song or musical phrase. It is a lot like Art. And as the saying goes, one man's trash is another's treasure. I may hear a song in my head and heart and choose to express it in a certain way. Now I am aware that this particular piece could literally go into a thousand different directions with all the possibilities of melodies that come to Artists. Which is right, which is wrong? I am firmly convinced that there is no right or wrong. If it sounds good and feels good to you or me, then why not? And it's true at times I may sound totally different from anything that you have heard before, and then at other times, a bit like everyone that you have heard. But that's OK…
You know, so many artists and musicians are looking for that perfect sound. I find that to be totally abstract. How can an imperfect person create something perfect? And then, maybe everything is perfect in its own way. Really I think what we are creating are perceptions. So then, if we perceive that something is wonderful, or beautiful. Then to us, it truly is. The challenge then is to pass that insight or acuity if you will, on to others by way of your passion for Art or Music.
You know, I didn't want to use this as a philosophical outing. But I guess what I'm trying to say is that there is a song inside of all of us. And I refuse to let anything mold or control that other than the way I feel at that time.
And I may not particularly care for a certain song, but that doesn't mean that that particular song isn't cared for by someone. And I really think that if we could just accept it for what it is then we would probably find that we may actually enjoy it.
I love, honor and respect all the other musicians that paved the way for all of us. And as I think of life's experiences, I feel that I am like a sponge that absorbs a little of all of them and as a result, as I play, you, myself, and others may hear or feel something nostalgic in a phrase or movement. Sometimes this is done purposely, other times I discovered it after or as I did it. But my approach and my sound aren't done to mimic others. I hope you find something on this CD that you can grab hold of.
I know that you may not love every song, but it is my hope that if you give each song a chance, it is going to make you feel something. That in my opinion is the purpose of music. We are moved to like a song after the song moves us. And the same is true of the songs that we dislike.
So please sit back and share this moment in time with me as I attempt to move you. I really do hope that you enjoy something that you hear.
Oh, for my Witness Friends... I will always put Jehovah first in my life. Music is a gift from Jehovah and never will I allow this gift to interfere with the most important aspect of our lives... And that is our relationship with Jehovah. He comes first. And my service to him is worth more than anything else. And we all know that in these "Last Days", there are so many distractions. Before I allow this to be one, I'll never play again. So, therefore, My Meeting attendance, personal study, field service, Christian conduct, and other spiritual obligations take precedence over all other things. Including this. So as I endeavor to provide clean wholesome music, I am closely watching my Spiritual Routine and my association. And I encourage you to do the same. My help is from Jehovah...

Oh, before I forget… I've been inspired by many artists as I said earlier such as… Benjamin Pruitt Sr., Skip Pruitt, Gerald Albright, Dwight Adams, Elvis Presley, Sax Man George Benson, Guitarist George Benson, Luther Van Dross, Kirk Whallum, Jerome Davis, Kenny G, Fred Astaire, Bing Crosby, Duke Ellington, Horace Silver, Frank Sinatra, Stevie Wonder, Sammy Davis Jr., Grover Washington Jr., Johnny Cash, Jim Nabors, Bobby McFerren, Ella Fitzgerald, Charlie Parker, John Coltrane, Michael Jackson, Anita Baker, Karen Carpenter, Janet Jackson, Prince, Johnny Walker, James Brown, BB King, David Sanborn, Dean Martin, and Jerry Lewis, Al Jarreau, Danny Kaye, Louis Armstrong, This list is incomplete, but I'll keep adding to it as I keep thinking. But as you can see, inspiration comes from many different avenues, and it is as multi-faceted as the people who offer it.
If you'd like to donate to help keep the music going, just click on the Donate Button and Paypal will take care of the rest... Thank you in advance for taking the time to read this.
Great News... I am Married to an Author... Please Check out my wife Brenda's book, I Am Going To Be a Mother Soon. Also, My Son is an Author as well. Please check out Jordan's book, Young State of Mind.  Thank You...


To be continued…
Great News... I am Married to an Author... Please Check out my wife's Brenda's book, I Am Going To Be A Mother Soon.  Also, My Son is an Author as well.  Please check out Jordan's book, Young State of Mind.   Thank You...
Stan Barnes and Friends Live in Concert